Most people are now wondering how to convert WhatsApp group to signal. Most people are looking the other way in the name of the privacy policy change of WhatsApp, which is owned by Facebook. Most Whats App users switch to Signal, most secured messaging application. However, users face some difficulties when switching to the signal. The biggest challenge in this is converting old WhatsApp groups to signal. This article describes clearly How to shift WhatsApp group to Signal.
However, the signal itself has come to the fore through micro-blogging site Twitter to address the problems of new users. Many WhatsApp users want to know  how to transfer their group chats from other apps to Signal. One way to do this is through signal group links. You post the invitation link of the signal group in the WhatsApp group. The tweet says that everyone in the old group can reach the signal group via this link.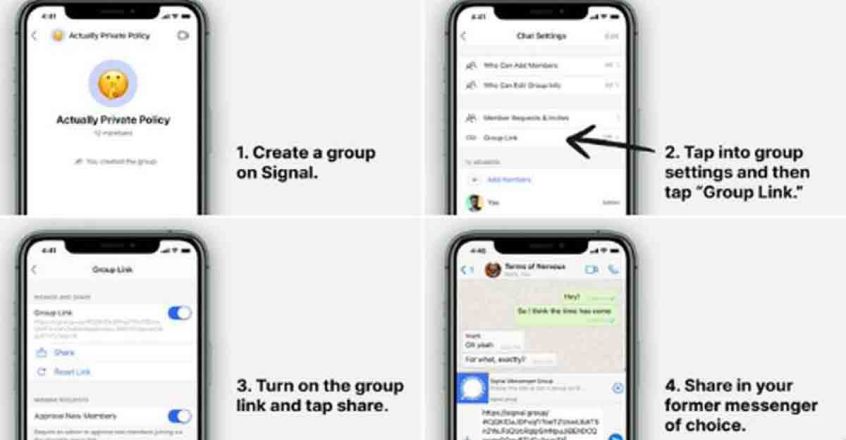 How to shift WhatsApp group to Signal in very easy steps  ?
There are four steps to easily convert your WhatsApp groups to Signal.
1. Start a new group of users in the Signal app.
2. Tap on Group Settings and then 'Group Links'.
3. Turn on the group link and tap Share and copy. 4.
Post this link on WhatsApp and Facebook groups to convert to signal.
At the same time, the Signal app said that their platform will soon launch new features in India. New  features od Signal app include chat wallpapers and animated stickers for iOS. Includes media auto-download settings and fullscreen profile photos.
Download Signal app.
Download signal app from Google play store for your Android mobile and tablet. Signal app also available on Apple app store for your iPhone and iPad. Signal for Windows computers can user on your computer and laptop. Mac and Linux versions also available.
Read also,