What is a Zoom app?
Through the Zoom App, we can simultaneously video chat or audio chat with an unlimited friend who has a business-related meeting and your client is out or your workers are at home. So you can connect with us, connect with them and you can communicate with many people at once through this Zoom application.
Nowadays the Zoom App is becoming quite popular, this app known for video conferencing, Zoom has been downloaded millions of times in the last few days, even on the Play Store, this application has kept itself a topper. Zoom App has retained its place in the top section of Google Play Store, only after that apps like Tick Talk, U Video and Hello are coming in Google Play Store. The Zoom application is rated 4 stars on the Play Store, so far this application has been downloaded by 50 million people.
About zoom app video conferencing:
Zoom applications were used for business or professional or education when you say it, but after you lock this application, people will be able to do video conferencing with their friends and relatives, or for their birthday party or kitty party. Using the application to talk to favorite people. And not only this, through this application, teachers are giving education to their students at home.
Learn about World's most downloaded mobile app
At a time when a lockdown is going on in most countries and companies have given 'Work from Home' to their employees. So companies want to be connected to their employees through Video Conferencing, Skype, WhatsApp, etc. concerning official work. Zoom App is proving to be very helpful to meet these needs of companies. More than 5 million satisfied users are working and studying with this wonderful app and well known multinational companies are a client of this company.  
Zoom App is a conferencing app. In which 100 people can talk together through Video Conferencing. One to one meeting and group calling facility is available for 40 minutes through this app. You can connect to either video or audio-only or both through the Zoom App. Zoom also allows users to record video calls for future purposes. It is very easy to use. Download it for free on Android Mobile, click on "Host a Meeting" and invite 100 people to join.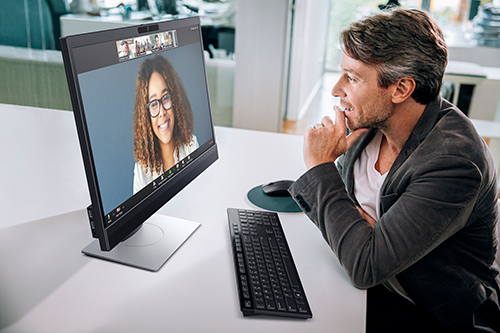 Zoom App Advantages and products:
One-On-One video conferencing:
This is the most important use of the service. The Zoom app allows two people to connect through audio and video.
Group Meeting:
This facility is used by the office administration to connect with its employees in real-time. The free version of the service can add 100 participants at a time for 40 minutes, however, the number of participants can be increased to 500 and the 40-minute time limit can also be extended.
Zoom Meeting:
This means that the same kind of meeting can be run through the Zoom App as it happens when everyone is physically present in the office. This feature facilitates physical setup for meeting through video calls in the conference rooms of companies.
Zoom app main features.
● Best Android Video Meeting Quality
● Best Android Screen Sharing Quality
● You can directly use it from your Android devices.
● Can share photo, web and Google Drive, Dropbox or Box files on the screen
● Send pics and audio from mobile and desktop
● Invite phone, email or company contacts easily
● Become an interactive participant or participate as a webinar-only participant
● Available on various network connections as WiFi, 4G / LTE, and 3G networks.
● Works in safe driving mode on the road
● With its help, you can connect with anyone on Android, other mobile devices, Windows, Mac, iOS, zoom space, H.323 / SIP room system and telephone.
Download Zoom applications.
Zoom apps are available for both iOS and Android platforms. You can simply download Zoom for Android mobile and tablets from Google play store.    The iOS version of the Zoom app can use on both the iPhone and iPad, get it easily by download from Apple's App Store. The web browse version of Zoom clients for meeting download automatically when a client join or start a meeting, you will get also this from this link.
Zoom plugin also available for Microsoft's Outlook email program. This plugin will create a special button on the toolbar and that will helps you to schedule or start a meeting with just a single click. Get this plugin by download it from this link. Zoom browser's extension is the one-click solution to join or start a meeting from the browser and Google calendar. Zoom browsers plugins available for Google Chrome and Mozilla firefox.  
Conclusion:
The Zoom app is one of the services that has seen a surge in its users during the coronavirus virus epidemic as almost all office goers are working from home. Thus video conferencing and remote tasks have become very easy through the zoom app.
Also, read.
Skype app for free video and voice calls. 
WhatsApp is no longer available on these phones from February 1, why?