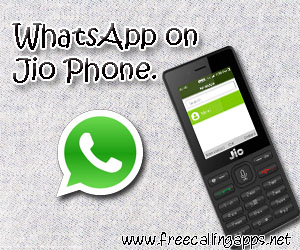 WhatsApp on JioPhone is now available. Jio phone, the cheapest phone with some smartphone options was introduced by Jio company in India. Jio created an internet revolution in India with their lowest and free internet packages. WhatsApp is the leading communication app available on JioPhone across all over India. WhatsApp had introduced a special version for JioPhone which runs the KaiOS operating system. WhatsApp on Jio Phone offers a secure, simple and reliable way of contacting family and friends.

Read also JioChat app, a free calling app from Jio India.
How to use WhatsApp on your computer or Laptop.
Now enjoy Whatsapp free calls.

 The new  ion WhatsApp on Jio Phone offers the best part of this app, which includes a reliable and fast messaging, the users can able to send photos and videos. All these communications are secured with end-to-end encryption technology. It also offers the facility to record and send audio messages by doing just a couple clicks on the keypad. To get startedWhatsApp on Jio Phone needs verify your mobile number and there you go, you can start chatting with other App users in private or in a group. WhatsApp on Jio phone is now available in the App store on Jio App store. You can simply download WhatsApp on the Jio Phone by visiting the AppStore and click on download. WhatsApp on Jio Phone is also available on JioPhone 2. WhatsApp on Jio phone is being used by many Jio users. WhatsApp also supports Android mobile and tablets, iphone, Windows mobile, Black .berry mobile, and other popular smart devices.
The main attraction of Jio phone is its very low cost. Jio phone users  get the benefits of a smartphone at the price of a basic phone. The Jio service works on 4G Volt technology which includes making a voice call on Jio network but the handset must support this technology. The basic mobiles and cheap smartphones do not support this and Jio phone is the best option to enjoy Jio services and WhatsApp on Jio phone.